Found in the high weald area of outstanding natural beauty, the beautiful spa town of Royal Tunbridge Wells is well-known for its world-famous gardens, fairy-tale moated castles, and mellow country manors, making it a must-visit amongst locals and day-trippers alike.
Acclaimed in the late 17th century when the Chalybeate Spring and its iron-rich water was discovered, Tunbridge Wells rose in popularity as affluent and noble visitors from London and afar would flock to the wells to take advantage of the health-benefits of its exceptional water properties.
Since the town wasn't far from Tonbridge (originally spelled Tunbridge), it later became known as Tunbridge Wells, gaining its royal title in 1909 when King Edward VII wanted to honour his mother, Queen Victoria, who loved to visit often, and there's no surprise why.
The town clearly has lasting appeal – not only is it rich in history and architecture, but its various green open spaces range from woodland to meticulously maintained grounds making it a wonderland for tourists looking to get away from the hustle and bustle of the city. From independent shops and art galleries to buzzy cafés and bars, Royal Tunbridge Wells is worth visiting, and here are the best ways to spend a day there.

Spend a day shopping at the Historic Pantiles
As a finalist in the Great British High Street Awards 2016 and 2018, The Pantiles is not your average mall crammed with chains and mundane brands. This exceptionally quaint colonnaded walkway boasts stylish 18th and 19th century buildings home to a variety of local and talented entrepreneurs.
A favoured destination for those who want to enjoy elegant surroundings, visitors can soak up the charm and shop from classy boutiques, specialist art galleries and exquisite bars against a backdrop of rich heritage and stunning architecture.
Dine at a top-notch eatery
You're spoilt for choice when it comes to food in Tunbridge Wells. Aside from your standard chains such as Pizza Express and Côte Brasserie, you'll find an abundant of independent restaurants where you can indulge in freshly sourced produce and support local.
If you're hungry for tapas and cocktails Soprano brings a refreshing twist to Tunbridge Wells' hospitality scene, hosting an impressive menu full of authentic Spanish dishes. After something more traditional? The Poet at Matfield is the place to be for great British classics, cask ales and fine wine.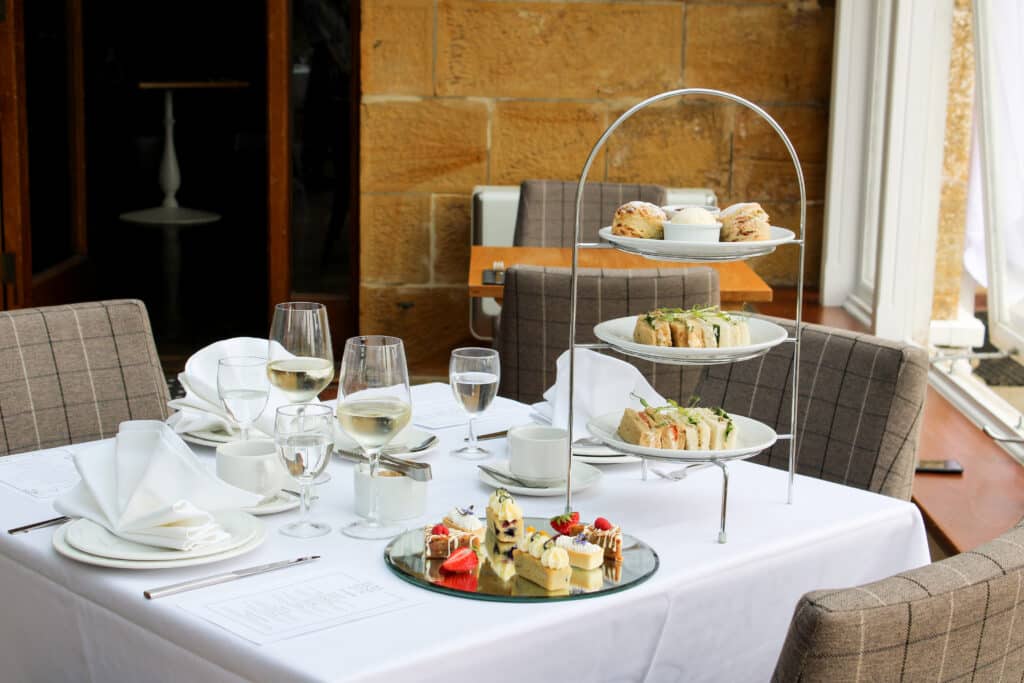 Enjoy an afternoon delight
Influenced by the sweet and savoury flavours of summer, an afternoon tea in Royal Tunbridge Wells is the perfect way to spend these warmer days. Whether you like yours with bubbles or a brew, you won't be short of places to kick back and relax as you savour the classic British flavours of delicate sandwiches and sweet scones.
For those after an oasis of rolling gardens and rich history, make your way to Salomons Estate where you'll be met by 36 acres of beautiful grounds and a menu that delivers all things traditional including their showstopping homemade cakes. If you want to be a little closer to the centre of town, head over to One Warwick Park Hotel. Available alfresco style or in the art-deco inspired bar, the delightful selection of sweet and savoury treats will leave you wanting more.

Sip on a tipple or two
Cool and sophisticated? Lively and modern? When it comes to bars in Tunbridge wells there is a mountain of mixology masters. Easily one of the best places in Kent for a tipple, this town is no stranger to a drink or two. Be it small independent wine rooms or trendy cocktail bars, no two nights will ever seem the same.
Try One Warwick Park Hotel for pre-dinner drinks, The Townhouse for happy hour or pop the cork at Geography's winery – whether it's a Thursday night or Sunday afternoon, there really is a bar for every occasion.
Embrace the outdoors
Find peaceful tranquillity in Tunbridge Wells' where for every building, street, and pavement, there's about as much green space, garden, park, and field. A place of beauty and serenity, the leafy town is packed full of open space perfect for romantic strolls, rural rambles, and pooch perfect pathways, so no matter your reason for visiting, there's always an opportunity to get down with nature.
Everyone who visits Dunorlan Park is delighted by the park's Grade II listed landscape that boasts beautiful gardens and historic features like the lavishly ornamental Fountain built to be in 'harmony with nature'.
If adventure is what you're after, the 800-acre site at Bewl Water will have all your boxes ticked. From cycling to pedalos, swimming to water sports, the reservoir which is also the largest stretch of open water in the South East is perfect for all kinds of fun and healthy outdoor activities.

Enjoy a train ride along the beautiful countryside
For five miles of picturesque surroundings, hop onto the Spa Valley Railway where you'll tour through the beautiful countryside into Tunbridge Wells, with plenty of stops along the way. Enjoy pleasant views upon the steam or heritage diesel train after choosing from a selection of delicious meals or special events.
Available on selected days, those after a dining experience with a twist can choose from cream tea, a Ploughman's lunch or fish and chips to name a few. After more of an experience? Whilst gin, whisky and cider trains are a hit amongst grownups, Thomas and Friends, Peppa Pig, and Paddington Bear have proved popular with the little ones.
Discover the best live performances
From classic musicals to cutting-edge performances, Tunbridge Wells is home to some of the best theatre shows in Kent. Whether you're after an evening of laugh out loud entertainment, or timeless and iconic live music, Tunbridge Wells has the cream of the crop, and will give you an experience you certainly won't forget.
For an exhilarating range of theatre, music, comedy, and dance, Assembly Hall Theatre is a firm favourite amongst locals. The 1,000-seat, multi-purpose venue is in the heart of Tunbridge Wells and collaborates with local, national, and international organisations making it a much loved and valued cultural asset to the community.
But when it comes to art exhibitions, plays, films, and opera, a visit to Trinity Theatre is a must. Located a mere three-minute walk from Assembly Hall, the town centre's best love gallery admires local artworks and stone sculptures whilst the main stage hosts popular shows such as the Comedy Café and Christmas Show amongst a series of community events fit for all ages.
If you stay the night, wake up here
Holidaymakers may not head to Tunbridge Wells to 'take the waters' these days, but peace, relaxation and a buzzing community keeps day-trippers coming back time and time again. If you plan to visit and stay the night, One Warwick Park Hotel makes for the perfect location. Just a stone's throw away from the famous Pantiles and only a short walk from Tunbridge Wells railway station, the hotel is perfectly situated in the centre of it all, allowing guests to enjoy all our beautiful town's activities and surrounding countryside. Even better? TN Card Holders can enjoy 10% off afternoon tea, and The Bar.
We'd love to hear from you. To book your stay, email reception@onewarwickpark.co.uk