The Food and Beverage manager at The Brasserie, Sime Ercegovic (below), has an extensive wine knowledge which often impresses guests. Here we talk to Sime to find out some of his personal recommendations and wine pairings…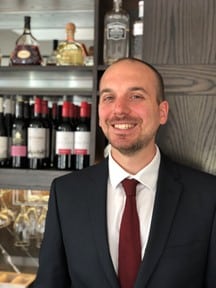 What would be your choice of wine from the menu to enjoy on a summer afternoon?
Nyetimber Classic Cuvee Multi-Vintage – a very fine and elegant sparkling wine from Sussex. It's as good as most non-vintage Champagnes.
And a good wine to complement a succulent steak?
Bold red wines – think Cabernet Sauvignon, Malbec, Shiraz –are always a good match. From our wine list I'd recommend Gouguenheim Flores del Valle Blue Melosa, Malbec, Mendoza, Argentina, 2013. It's 100% Malbec that ages for 12 months first in oak barrels and then at least 12 months in bottle before its release.
Which tends to be the most popular wine choice at this time of year?
Rosé of course! And from our wine list I'd recommend Whispering Angel, La Rosé de Sophie, Miraval.
What desserts would you recommend to go with a dessert wine?
There's only one rule: wine needs to be sweeter than the dessert. For example a lighter dessert wine such as Recioto di Soave works best with lighter chocolate desserts, while richer ones such as Tokaji and fortified wines work with darker, denser ones.
What is your 'go to' bottle of wine?
I don't have a favourite as such but whenever I can I like to try new wine and compare it with what I have tasted so far. This year some of my preferred choices have come from Domaine Hugel, Alsace in France. They do very impressive Gewurtztraminer and Riesling varieties.
Do you have any wine pairing guilty pleasures? Not if we talk about pairing but I like something quite unusual and that's to drink red wine colder  than the recommended
temperature – i.e. below 13 °C.
And your all-time favourite wine pairing?
It has to be vintage port with blue cheese such as Stilton, Gorgonzola or Roquefort.
Where is an underrated wine region that more people should know about?
I come from Croatia where many world relevant wines are produced but
because of small production and poor marketing they are not
known worldwide. Dalmatia, Croatia's warmest and sunniest region is where Plavac Mali, a famous red wine, comes from. Among specialists it's highly recognised but I've noticed that here in England it fails to find it's place on wine lists which is a shame.
And your beverage of choice when not sipping a glass of wine?
At this time of the year it definitely has to be Gin Mare with Mediterranean tonic.
There is a wine to compliment every dish on the weekly changing A La Carte menu at The Brasserie, you can enjoy two courses for £19 and three for £25 every Saturday evening, to book please call 01892 520 587.