With airport chaos, cancellations and strikes dampening many holidaymakers' sunny escapes, families are looking a bit closer to home for this years' getaway. And for those after something different, there's an array of activities right on their doorstep worthy of making this summer one to remember.
Whether you're a wildlife enthusiast, a seaside lover, or an adrenalin junkie, we've searched high and low to bring you a list of ideas that will surprise and delight everyone. And best of all, they all fit into a day or even a few hours, so you can string a few together for the perfect at-home staycation.
Home away from home
Looking for a break away from the stresses of everyday life? Packing up the car and shutting the front door behind you could just be what you need.
A self-catered staycation like The House at One Warwick Park Hotel offers families lots of benefits, from saving time and money to more freedom and flexibility! On a typical vacation, eating out every night is the norm and whilst this is a luxury loved by many, sitting down with your nearest and dearest enjoying a home cooked meal can't be beaten, not to mention will save you lots of money too. If you wish, there is still the option to treat yourself and dine out locally, giving you the best of both worlds.
Another important thing to point out is the amount of space you'll enjoy. From private living rooms, kitchens, and separate bedrooms, there's plenty of space for all your belongings and for the kids, (and your four-legged friends) to run around! Combine board games, baking and movie nights and you won't even have to leave – with a little imagination, opting for a self-catered staycation can soon become a home away from home.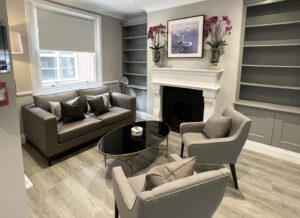 Pitch up
2020 marked the year of camping – from endless travel bans to plenty of lockdowns, pitching up became the answer to those looking for safe ways to leave the home during COVID. Two years later, the great outdoors remains a top travel destination as it holds on to its pandemic popularity and as one of the most affordable travel options, it's not surprising to see so many tenderfoots swap foreign sun loungers for mother nature.
Camping offers the perfect opportunity to unplug and reconnect with nature and get back to basics with some good old fashion family bonding, and luckily for us here in the UK, there are plenty of incredible landscapes to choose from: think beautiful reservoirs such as Bewl Water, stunning mountains, and glamourous yurts – the options are endless!
Think the adventure stops at s'mores and sleeping bags? Think again! Nowadays camping has evolved – why not pitch up near a lake and get the whole family involved in some exciting water activities? Or bring the bikes along and explore the rolling hills! Whether you're a die-hard camping fan, looking for a low-cost break, or reliving childhood memories, there are so many good reasons to spend the night in the wilderness this summer.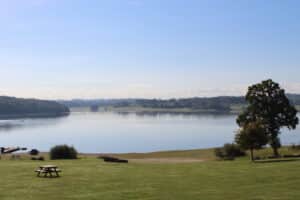 Visit the beach
With all the different locations you could visit, the beach should be one of the tops on your staycation list. Think sandy toes, blue skies and crashing waves – does anyone really need to be convinced?
Aside from being a cost-effective option to keep the whole family entertained, heading down to the coast provides so much more than a little fun and relaxation – it's a great way to enhance your mood and health! From that all important Vitamin D to promoting physical exercise, the beach is the perfect break away from routine, allowing families to replenish and recharge.
Soak up some history
Historical sites are a perfect day out for the whole family, and with so many excellent castles, stately homes, and heritage landmarks to choose from, going back in time makes for the perfect adventure for any age! From the childhood home of Anne Boleyn to the mysterious monument of Stonehenge, exploring England's fascinating heritage offers an endless list of days out for the ultimate family staycation.
Visit a theme park
Calling all adrenalin junkies! Turn this years' staycation into a play-cation and visit one of the UK's top theme parks! Whether you're on a roller coaster, having a swirl in a teacup or bobbing for apples, theme parks help bring out smiles of all ages. And with a great sense of community and happiness that can't be replicated anywhere else, visiting one this summer is a must. Our two favourites are Chessington World of Adventures, and Legoland, Windsor!
Explore your hometown
Sometimes we are so focused on catching flights that we don't take the time to appreciate our own cities! So why not take the opportunity this summer to explore your hometown?
Get stuck into all the 'touristy stuff' and visit your local theatres, shops and eateries as well as stay up to date with events happening in town – hopping onto social media, reading blogs, and scanning the local newspaper is a sure way to know the ins and outs of what's happening right on your doorstep. You never know, you may find something that surprises you…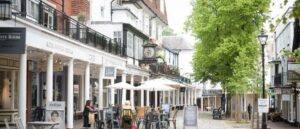 Staycations in Kent with One Warwick Park Hotel
Interested in exploring one of the seven wonders of the weald this summer? When booking a staycation at One Warwick Park Hotel, our friendly staff will happily recommend lots of local activities for you to get stuck into. Whether you're after something a little more relaxed or an adventure fit for the whole family, we have the knowledge to make your 2022 summer staycation one to remember.