They say the early bird catches the worm, but in this case, it catches breakfast burritos and scrambled eggs as our sister restaurant, The Brasserie One Warwick Park opened its doors to local Tunbridge Wells foodies for the first time this week.
The Brasserie will be dedicated to serving the town's best breakfast and brunch offerings, so whether you're keen to kick things off with a classic full English or want to satisfy your sweet tooth with our maple syrup, triple stacked American pancakes, head chef, Ollie Funnell has devised a menu packed full of your breakfast favourites.
Ollie, who's culinary skills have seen guests coming back for more, spent time with his sous-chefs and the team at One Warwick Park Hotel to create a menu which nods to the locality of Royal Tunbridge Wells and our town's suppliers. Boasting local flavours, traditional breakfast classics and homemade treats, Ollie tells us more about what lead him to The Brasserie, and what guests can expect from the new menu…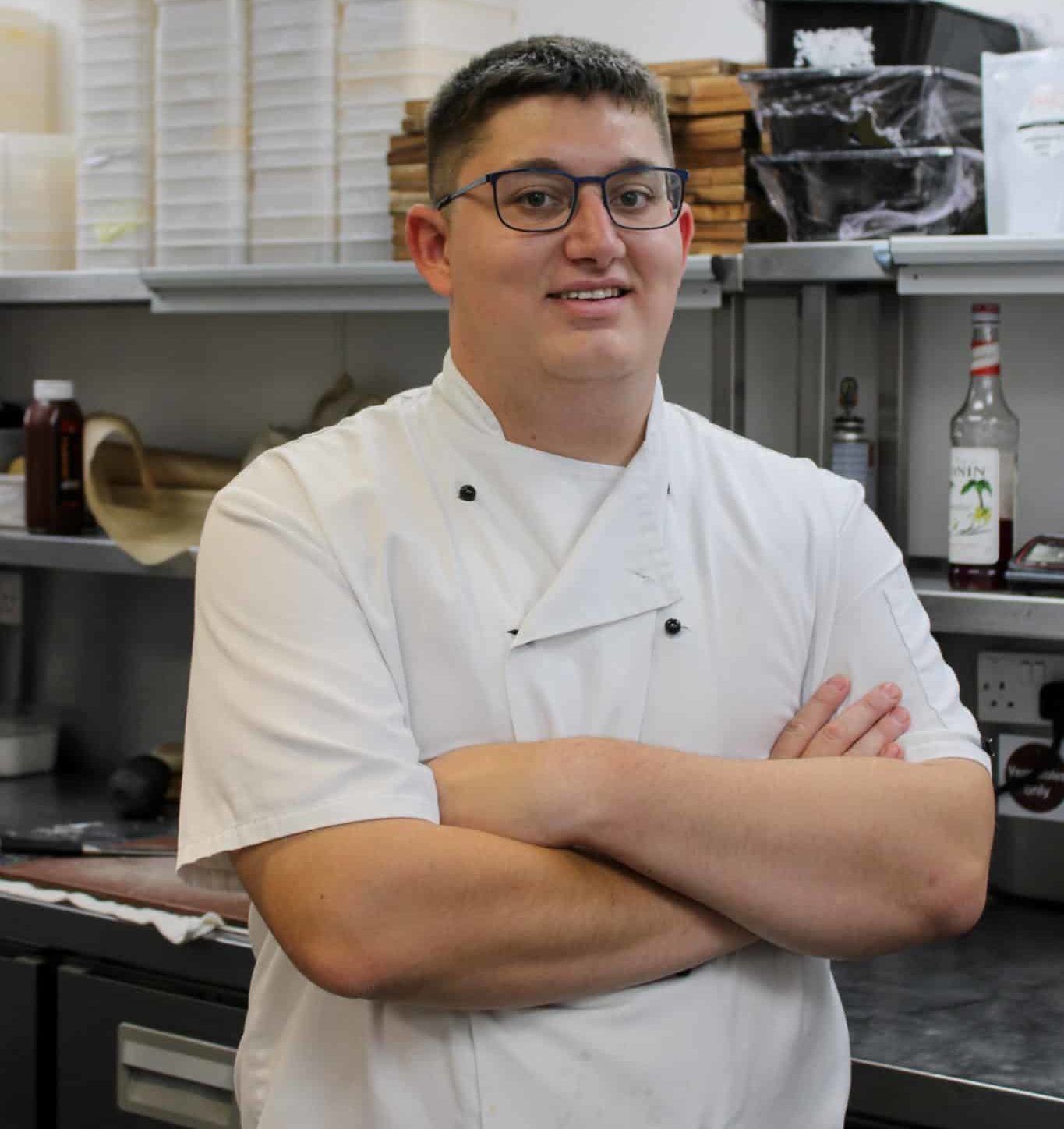 How long have you worked at One Warwick Park Hotel?
I've worked for Elite Leisure Collection for over a year now, starting off at Salomons Estate, One Warwick Park's sister hotel, wedding, and conference venue, as a Chef de partie where I would assist the Head Chef and Sous Chef in creating delicious menu items, recipes and developing dishes. I soon ventured to working across both sites, One Warwick Park Hotel and Salomons Estate as my role developed into a junior sous chef where I'd often get involved in running the kitchen in the absence of the head chef.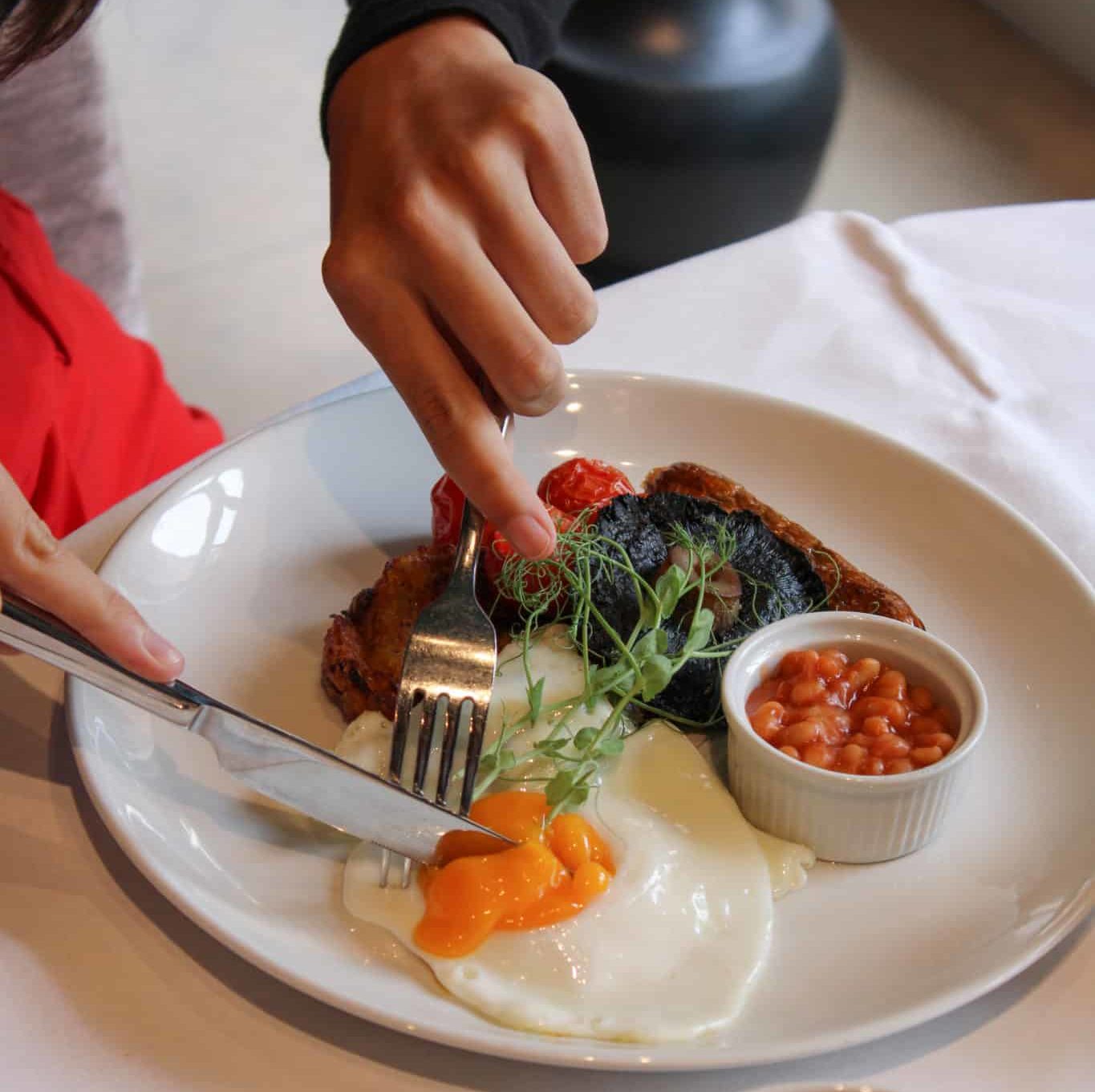 Why did you decide to become a chef?
Like many chefs, my love for food can be traced back to my childhood. All I have ever wanted to do was create tasteful dishes that make people happy, and there aren't many other jobs where you get to make people happy every day doing what you have such a passion for. It's good to see your regular customers and know they return time and time again because they love the food that you cook. 'Feeding people happiness' is what drives me.
Tell us more about your culinary studies
I took the leap to starting my career at age sixteen when I worked as a kitchen porter, and I have never looked back. I studied at West Kent College (now North Kent College) for 3 years and completed all 3 levels of catering. It was here that my passion for food grew, and whilst working my first job I uncovered a whole other side to becoming a chef that was very exciting – the adrenaline. Cooking hundreds of dishes each night made to the highest of standards to see the beaming smiles fill the restaurant floor is a feeling like no other. And as I continued the culinary ladder, I discovered new challenges and joys along the way that further cemented my love for the profession.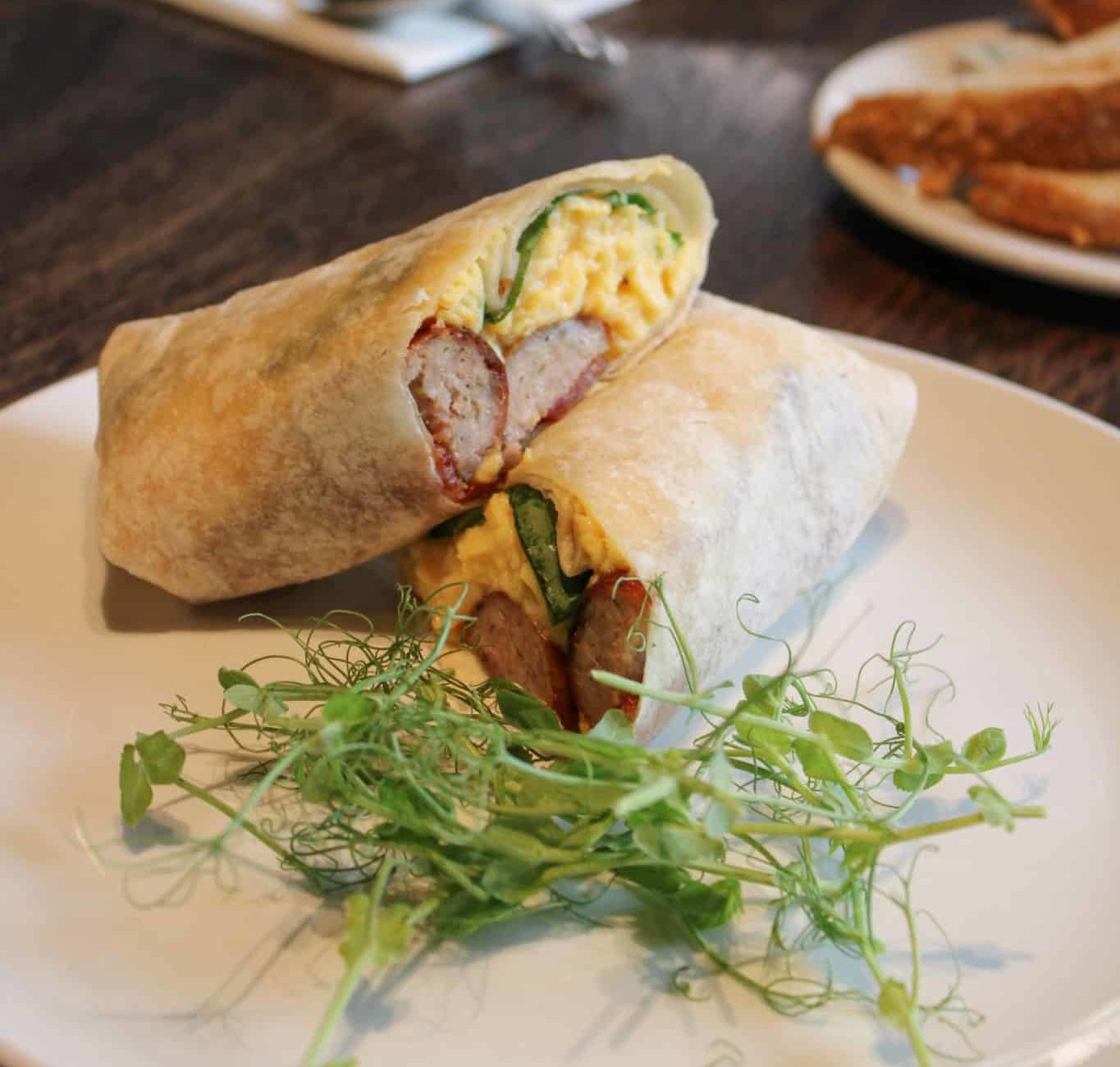 Tell us about the opening of The Brasserie One Warwick Park and its concept
We wanted to introduce a new breakfast spot in the heart of Royal Tunbridge Wells that celebrated local suppliers and fresh ingredients. A place that was so much more than your average café, but a slick spot filled with the highest quality food and coffee ideal for every occasion. From breakfast schmoozing and afternoon brunching to those in a hurry after an on the go munching, the menu showcases home-cooked breakfast classics you can't help but indulge in.
Tell us about the new menu
From full English breakfasts that include vegan and vegetarian options to smashed avocado, eggs royale and homemade pastries, The Brasserie's menu ticks all the breakfast and brunch boxes. We designed the menu based on tasteful breakfast classics that would give our guests a nice boost for the day – after all, breakfast is the most important meal! We incorporated hearty ingredients and combined favourite dishes with healthier trends such as our blueberry and chia seed overnight oats for those looking to try something new.
But at the centre of it all lies our commitment to using fresh, local produce. From Southborough Butchers to Tunbridge Wells Coffee Roastery, it has been a labour of love to find the best locally sourced, fresh produce and ingredients for our dishes.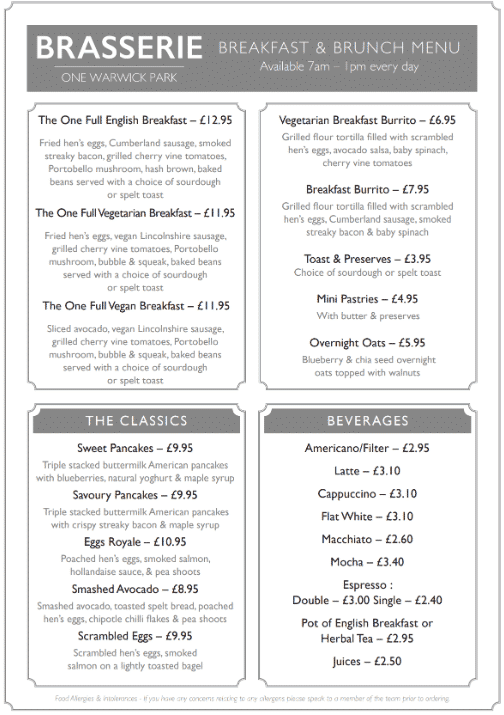 For those who are planning to visit, what would you recommended off your menu and why?
Filled with scrambled eggs, Cumberland sausage, smoked streaky bacon and baby spinach, our breakfast burritos are a tasty option any time of day! A flavoursome cocoon packed full of nutritious-rich ingredients, this dish is yummy and filling and combines all the breakfasts favourites in one delicious tortilla.
You focus a lot on independent producers. Why is this important to you?
We chose to work with independent producers for two reasons. Firstly, keeping money in our local economy is important to us, especially with the rising costs of living. Supporting local businesses within Tunbridge Wells and doing our part to help invest in and grow our community is something we feel passionate about.
Secondly, purchasing locally sourced, freshly grown produce often results in better tasting dishes. We know exactly where our ingredients come from and can promise a shorter time between harvest to table, allowing for not only more flavourful meals, but healthier ones too.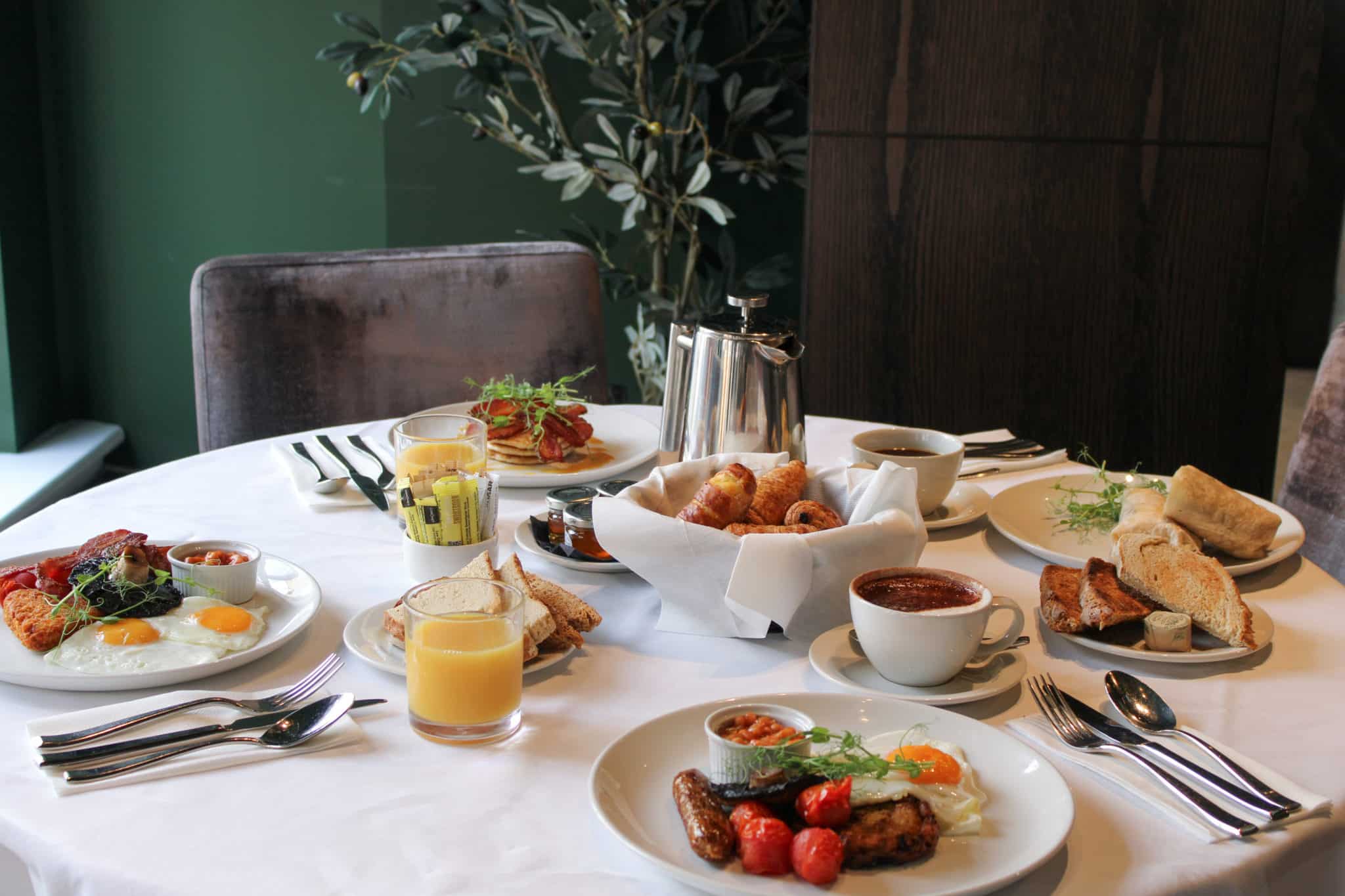 Ollie's perfect scrambled eggs recipe
Has all this breakfast talk got your mouth watering? For the hungry among you who just can't wait until your next visit to The Brasserie, Ollie has shared his top secrets to making soft and fluffy scrambled eggs so you can perfect your method at home.
Ingredients (X1 portion)
X2 large eggs
Salt and pepper
1 small knob of butter
Method
1. Crack the eggs into a measuring jug
2. Add a pinch of sea salt and black pepper, then beat them together well
3. Put a frying pan over a low heat and add the knob of butter
4. Leave it to melt slowly. Once the butter starts to bubble, carefully add your beaten eggs
5. Stir the mixture slowly, using a spatula will help you get right to the edges
6. Keep stirring the eggs until slightly runny and slightly under cooked
7. Remove the frying pan from the heat and keep stirring slowly as the heat from the pan will ensure your eggs continue to cook to perfection
8. Serve on toast with or without avocado, with a full English or in a breakfast burrito for the perfect start to your day