Are you planning your perfect 2020 wedding, or do you know someone who is? Here is our top bridal trends for 2020. You heard it here first…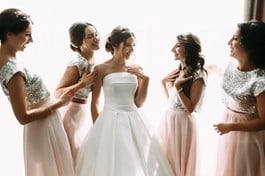 WEDDING JUMPSUITS
A twist on the classic dress, but one that seems to be growing in popularity and taking the runway by storm. Wedding jumpsuits provide the perfect balance between tradition and contemporary whilst maintaining stunning bridal elegance.
EVENING OUTFIT
A trend that has taken off over the past couple of years and sets to continue, the evening outfit. With weddings taking place outdoors, the popular use of tipis and marquees, we are seeing brides across the country slip into something they can really dance the night away in, whilst keeping your stunning dress in pristine condition. Meghan Markle opted for true Hollywood glamour in the stunning Stella McCartney, halter dress for the evening reception
Plus, two outfits are always better than one, surely?
THINK: MORE COLOUR
Gone are the days when you had to narrow your wedding décor palette to just one or two pantones. We are starting to see much more colourful wedding trends emerging. So much so that bridesmaids are now choosing different shades of colour for their dresses, often with two or three different shades, great for adding depth to photographs and character to each of your bridesmaids' looks.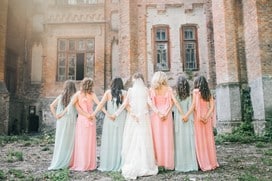 SHEER SLEEVES
This prominent trend is very much present and set to continue as we see applique, tattoo on the skin sleeves, which add a pretty and delicate effect whilst enhancing the silhouette.
TWO PIECE
Popular amongst bridesmaid outfit choices as you can add some fun and personalise your style by mixing the choice of fabrics to create the perfect combination. Popular choices are sequin tops with a tulle or silk skirt to inject some playful glamour.
RECOMMENDED SUPPLIER IN TUNBRIDGE WELLS
We highly recommend, Isabella Grace Bridal Shop
Isabella Grace, 40 Mount Ephraim, Royal Tunbridge Wells, Kent, TN4 8AU