We are pleased to introduce One Warwick Park Hotel's new Operations Director, Martin Garner. Martin has an extensive background in hospitality and we are delighted to welcome him to the One Warwick Park team.
Recently, we had a Q&A with Martin, get to know him a bit better with the questions below…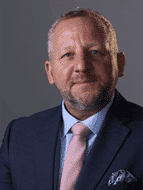 Tell us about yourself?
I started my career as an actor and moved out of my hometown at the age of 17 to pursue a career in the arts. I toured Germany for two years, won a Fringe First at the Edinburgh Fringe festival in 1993 and toured the UK twice.
I originally come from Middlesbrough, in the Northeast of England ( In those days they were good at football!). I spent many years waiting for the next big role whilst working in some great places in London, such as Simpsons in The Strand at the Savoy Hotel and Fredericks restaurant in Islington. I also spent a year cruising the high seas in America, Europe and the Caribbean working as a bar manager on a 6000 passenger Cruise liner. I have spent the last two years living North Norfolk by the coast and managing a beautiful boutique hotel near the sea.

What made you want to start a career in hospitality?
Having spent many years in theatre and performing it came hand in hand with hospitality as I believe it's all about the theatre of it all. There never is a dress rehearsal… 'This is it'.
What makes your job special to you?
I love people, the interaction, making people smile and have a genuine interest in other people and their lives. We are all so different and that's what makes hospitality such an interesting thing to do and often in such interesting places.
What's the first thing you do when you begin the day?
Check the weather and usually emails, then put the kettle on for a good strong coffee and try not to wake everybody else up.
How would your team describe you?
You should ask them really, though my ears tend to burn a lot!
What's your favourite type of food?
You can't beat a good old fashioned roast dinner– these days they are a rarity in my house and if we do eat one, its usually never on a Sunday.
What is on your bucket list?
Seeing the cherry blossom in Japan, and to jump from a plane, no preference on which order.
Do you prefer cats or dogs?
Dogs, If I am forced to make a decision.
Coffee or tea?
Coffee all the way!
What is your favourite hobby?
Spending time with my young children and my partner, we always look forward to a 'family day' a favourite in my house as there is always ice cream involved.
We all look forward to working with Martin more and we wish him the best in his new career at One Warwick Park Hotel.