Celebrated annually every March, National Nutrition Month was created to educate and provide information on the importance of good nutrition, including food choices and physical activity habits.
The National Nutrition week campaign was originally launched in 1973. Within 4 years, the national week had grown significantly with the number of members involved, the activities planned and the range of consumers reached.
In the 90's, following a number of surveys, it was recognised that consumers understood the importance of good nutrition, however they were still confused and uncertain about how it could be incorporated into the heathy lifestyle.
In 1991, the British Nutrition Foundation released a nutrition programme into schools aimed at 5-7 year olds, gradually including further age groups, where it was eventually incorporated into technical courses such as GCSE's and advanced higher examinations.
This year, the theme is 'Bite into a Healthy Lifestyle', focusing on making smart food choices, eating and drinking fewer calories and fitting in regular exercise.
At One Warwick Park Hotel's restaurant SEVENTEEN, Head Chef Andrew Giles and his team work with the freshest locally sourced produce to deliver a weekly changing seasonal menu.
Our main fresh food suppliers are David Catt & Sons, a working farm just outside of Maidstone, which supply us with fruit, veg, salad and dairy.
We also work closely with Southborough Butcher's and Woodlands Farm in Lamberhurst, both of which supply us with fresh meat from local farms.
Some of our favourite healthy dishes include:
The Superfood Salad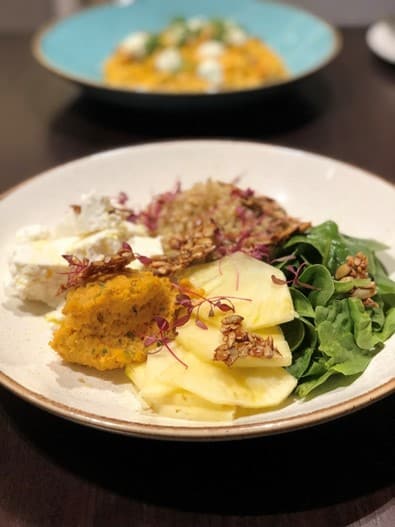 Fruit Breakfast

Grilled Sea Bream Fillet