Steak and wine, the David and Victoria Beckham of the food world. It is like salt and pepper or bread and butter – it simply works like a match made in heaven.
Yet, do you know what wines go best with different steaks?
Turns out there's a lot more than you think to pair steak and wine. Steak is one of those meats that doesn't need to be overpowered by flavours, it does the talking by itself.
There are a few simple rules when it comes to what wines work best with certain steaks. Let's start with the first rule; the rarer the steak the more mellow a wine should be, therefore a rare steak works well with a sweet white.
However, the fattier a steak the more robust you want your wine so a red would easily work well. Ribeye steaks work best with reds like Grenache, Syrah, and Mourvèdre.
The more charred and bitter a steak is the more you want to go with a sweet wine like Napa Valley this reflects on that classic sweet and savoury oxymoron.
It's not just wines that pair well with steak some cocktails complement it perfectly, that's not to say you should go and try a tequila sunrise with your ribeye, it's good to know the basics first and what flavours will lift the steak up. A great one to start with is a classic old fashioned, this cocktail works well with a steak because it has the spiciness of the bourbon which accentuates the flavours of the steak.
Some perfect wines for your steak dinner:
Cabernet – the people pleaser of wines, Cabernet is like that friend that everyone loves and is invited to everything. So really if in doubt go for a cabernet it works with most steaks.
Zinfandel – if you're like me and like sweet wine then Zinfandel is the one. This varietal of grape has a high sugar content, so it can be made into wine with a 15% or higher alcohol level, or the sugar can be preserved, leading to a sweeter wine. I'm a big Zinfandel lover myself.
Malbec- Malbec is that loud friend, it's robust, powerful, strong its everything you want with a lean steak, such as top sirloin or a flank steak. While you can eat Malbec with a fattier cut like filet mignon, its richness may overwhelm the flavour of the meat.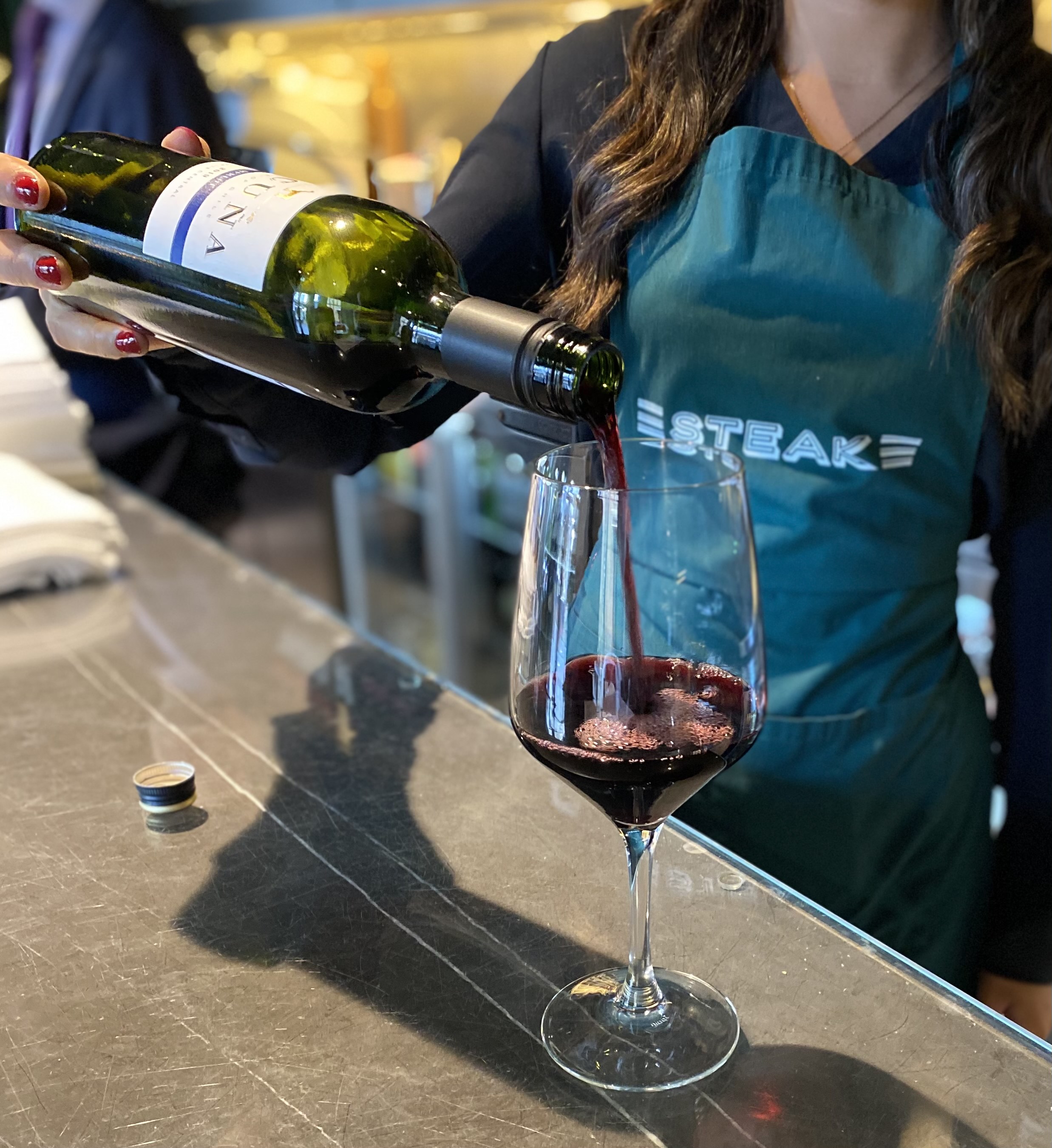 Finally, choose your favourite! Realistically if you have a favourite wine and you want to drink it with your steak dinner go for it! Everyone's taste pallets are different and what you may love with your steak someone else might hate. The only way to find out the very best steak and wine pairing for yourself are to taste different wines, and experiment. And, once you find a combination you love, you can feel free to stick with it – or try new things! It's your call, now go ahead and enjoy STEAK.
Join us at The Brasserie for an unforgettable dinner and fantastic wine.
call us on  01892 552592