There's no getting away from the fact that we are a nation who love tea, and at One Warwick Park Hotel we are certainly no exception.
With shows such as The Great British Bake Off taking over our screens and causing a storm on social media, it's clear that the art of baking is more popular than ever. With this love of cake we have seen an increase in unique offerings across menus. Afternoon tea is the most quintessentially British of traditions which dates back to the 19th century and is still as popular as ever.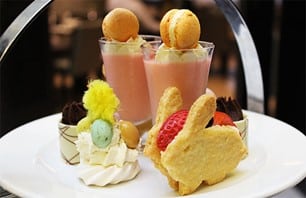 The concept of Afternoon Tea brings all social groups together – mums and daughters, hen parties, baby showers, first dates, 80th birthdays and everything in-between. Not only is it a thoroughly enjoyable event to host for all but it also gives our skilled team in the kitchen a chance to show off their baking skills in true GBBO style.
Our chefs have taken an adventurous approach to the traditional format, and offer a themed spin on a classic take, seizing the opportunity to demonstrate their creative flair. Following the success of our Art Deco Afternoon Tea and Easter themed delights, we are now looking forward to many more such as 'A Midsummer Night's Dream' later in the year – and any pop-up ones we do in between – so keep checking in for the latest updates. After all, there's always an excuse to share Afternoon Tea with friends!
We will raise our tea to that!
Themed Afternoon Teas
Midsummer Night's Dream:
Starting on the 27th May (the perfect Bank Holiday Treat) until the 31st July.
Summer Holiday Afternoon Tea:
1st August – 31st August
Call us on 01892 520 587 or email reservations@onewarwickpark.co.uk to book your Afternoon Tea.