Shelley's Cakes is our recommend cake supplier, they design the most beautiful cakes you will see, not to mention they are delicious too! Shelley's Cakes will make sure your wedding cake is truly perfect for your special day.
Tell us about yourself
Hi, my name is Shelley, and I am the owner and founder of Shelley's Cakes.
Let me give you a brief outline of me and my business.
After leaving boarding school, I studied for my HND in Catering and Hotel management at Croydon College, I then trained as a supervisor in Selfridges Catering department, and worked in their Coffee Shops until I left to get married and have children.
Working from home when the family were young, making cakes for family and friends, started the whole love of baking and cake decorating. I then had the passion for moving this forward and decided to take the plunge and rent a unit in Wrattens, a local craft shop in Chislehurst. Working in Wrattens then led to supplying cakes to a new sugarcraft shop, The Cake Gallery until the decision was made to open a shop on Walden Road in Chislehurst which is where Shelley's Cakes took off.
Having a dedicated team of five staff, we were an unstoppable team. Owning a shop had its ups and downs, but I wouldn't be the woman I am today without the passion for making the best from my business. Shelley's Cakes has become very well-known across the county of Kent.
After owning the shop for nine and a half years, the decision was made to close the shop and switch to working from a dedicated studio, and concentrate on making high-end bespoke wedding and celebration cakes
Working from the shop along with my team we successfully won our first Kent Wedding Award for Wedding Cake Designer of the year 2014, providing a huge boost to confidence and honour. The following year we were finalists. In 2016 we were unable to enter as we were concentrating on my daughter's wedding and setting up the new studio.
I decided to enter again in 2017, only this time I was on my own! Entering again was extremely nerve-wracking and on the night of the awards ceremony when they called out my name I couldn't believe it… Shelley's Cakes had done it again and won Wedding Cake Designer of the Year 2017/2018!
To make it extra special, it was the wedding cake for my daughter Kirstie and my son-in-law Zac that made an impression on the judges. Their comments were "Shelley's Cakes offered a wonderful array of variety, style, and flavours; the bespoke styles were beautifully crafted and complemented the couples and their theme perfectly". The judges also loved my "Biggest Challenge" story and thought my matching skills were "breath-taking."
2017 was also the year of a starting a brand new adventure in becoming a valued member of the My Wedding Professionals team. This dedicated team of experienced professionals help couples turn their dreams into reality, offering outstanding suppliers with fantastic customer service for couples to contact.
Another exciting development for Shelley's Cakes was to have my daughter Kirstie come onboard as office manager, making it a family business supplying cakes to the BR, SE, CR, TN, ME and CT postcodes plus further afield, we are also proud to be recommended suppliers to many prestigious venues.
We offer a wide range of cake flavours and over the years have seen trends change massively! People's favourites are still traditional rich fruit cake with marzipan, Madeira sponge with jam and buttercream, moist chocolate cake with chocolate fudge filling and luscious lemon sponge with lemon curd and buttercream and our latest flavours include Red Velvet, Chocolate Marble, Red Velvet Marble, Chocolate and Salted Caramel.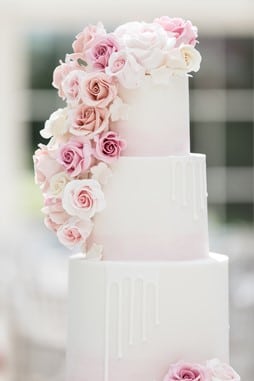 When was it you found a passion for baking?
My business accomplishments would have to be the fact that I started making cakes for family and friends and nearly 30 years later, here I am doing what I do best, and have met some amazing people along the way.
I started off self-taught and through the years attended many courses and classes, watched many tutorials and read countless books and have managed to create a well-oiled business. I am excited and looking forward to seeing what the future has to bring for Shelley's Cakes.
How long have you been in the wedding cake industry?
Shelley's cakes have been working in the wedding cake industry for nearly 30 years and still learning new techniques and trends.
What separates you from the others?
We offer top quality products and services making sure your wedding cake is exactly what you are after. We are trusted and recommended by many venues and suppliers across Kent and further afield. We keep up with the latest trends and are always pushing boundaries with your cake to make it a feature point at your wedding. We cater for all kinds of weddings big and small.
Top tip for the bride and groom
When choosing flavours for your wedding cake bear in mind that not everyone will like the unusual flavours. We make many different flavours but find the more traditional flavours like Sponge, Chocolate and Lemon will always get eaten and you won't have wasted cake. Break tradition if you don't want a fruit cake tier you don't have to have one.


Trends for 2019
A lot of brides are asking for cupcake towers with a top cake on top to cut into. This is a great way to feed your guests and we make bite-size cupcakes for people who don't want to miss out on the fun of the day they can quickly pop a miniature cupcake into their mouth and get back onto the dance floor.
See more about Shelley's Cakes here