Looking for an excuse to celebrate? Our iconic hotel nestled in the charismatic Pantiles of Tunbridge Wells turns six years old! Boasting an exceptional history within the town we all know and love when better to take you through our journey than on our birthday…
A unique history
Few venues in Tunbridge Wells have a more unique history than One Warwick Park Hotel. Dating back to the 1600s, the historic landmark boasts a trail of fascinating stories that has led the hotel to what it is today.
Jumping to 1900, our main building was originally built for wine merchants Pugh and Company, but after a victorious 67 years the site fell vacant and was soon occupied by football table manufacturer Subbuteo. A mere two years later, the building saw yet another owner as the Southeast England Tourist Board moved in, re-naming the building in reference to its past.
Back in 1698 the location was once known as King Charles' School who became infamous for their work rectifying the failure of education for children from poorer backgrounds. Their influential movement inspired a long history of education at the hotel, as in 1848 the Rev WL Pope bought the present spot and although reinvented its image, stayed true to its history of schooling. Before long, King Charles' School became The Old School House for boys which formed the brainwave for Southeast England Tourist Board as they renamed their new home 'The Old Brew House'.
However, the building was given a new lease of life when the school later closed, and a new dance club became the hot spot of town. Windows were bricked up and natural light was replaced to create a dark and intimate atmosphere. Hospitality soon became the new norm for the property as new owners Graceland Chinese restaurant formed its residence until 2007.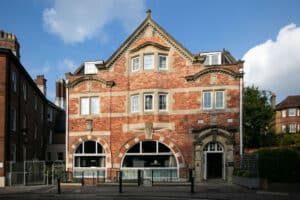 An architectural triumph
After housing a diverse history of owners and more than three centuries after its original construction, the historic landmark was about to revitalise Chapel Place through a multi-million-pound refurbishment, giving Tunbridge Wells some much needed accommodation as tourism thrived.
In 2013, the journey of One Warwick Park Hotel began and over the next three years' time was spent mastering an engineering and design challenge. We wanted the hotel to boast a stylish and contemporary interior whilst reflecting the traditional architecture of our historic town, (this was very important to us) and therefore worked closely with planners and Conservative officers at Tunbridge Wells Borough Council.
The task of marrying the new with the old was a success. We embraced the irregularities and welcomed traditional qualities, creating a charming property that was set to serve guests with an unparalleled level of service wrapped in true contemporary elegance. The restoration was a true labor of love, and in 2016, One Warwick Park Hotel was born.
Contemporary elegance
'Contemporary elegance' and 'function over design' was our brief as we obtained planning permission, and these two phrases have consistently informed our choices throughout the past six years. Setting our standards high and refusing to compromise has ensured that we have delivered not only beautiful spaces, but ones that work and promise a memorable experience.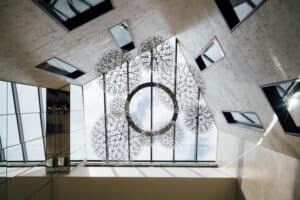 Sumptuous suites
Content and calm – two feelings we wanted to evoke when guests stayed at One Warwick Park Hotel. Combining a sumptuous combination of comfort and luxury, our breath-taking rooms were carefully designed with this in mind, guaranteeing a relaxed stay during every visit.
To further the feeling of relaxation, we wanted the hotel to feel like a home away from home and therefore ensured every guest had everything they could possibly need during their stay. Every room encompasses a full suite of bespoke furniture offering bundles of storage space as well as amenities that would leave our guests feeling lavished – winning Hypnos mattresses, fabulous monsoon rain showers, luxurious Temple Spa toiletries, a large flat-screen TV, free WIFI and complimentary refreshments upon arrival, all of which has allowed us to offer the ultimate hospitality experience.
A hidden art deco gem
Nestled between The High Street and The Pantiles, The Bar at One Warwick Park Hotel is as elegant as it is vibrant and is in the original part of the historic building. The Bar forms part of the hub of the hotel where guests can relax over a drink with friends and enjoy an after-work glass of Louis Roederer Champagne, or a pre-dinner cocktail. Our choice of tipples were selected with our guests in mind, complementing the sophisticated art deco interior that makes this space so unique.
A taste of fine dining
An exquisite dining experience is an integral part of any hotel stay and One Warwick Park is no exception; boasting a quirky, state-of-the-art restaurant, having a menu that would suit all tastes and palates was of paramount importance to us. Using the freshest produce and ingredients sourced locally, our modern dishes delight and surprise with every mouthful and has become the backbone of our success of emerging as the latest eatery hotspot for those looking for a buzzy atmosphere, mouth-watering food and an impressive wine menu.
Pinkies up
Afternoon tea at One Warwick Park Hotel is without doubt our most delicious tradition. For those who'd want to unwind in a more relaxed setting, our talented chefs set to work on creating an array of menus full of quintessentially British treats. Our team ensured that every guest would be welcomed with traditional, fresh-cut finger sandwiches, buttery home-baked scones, and unexpected seasonal treats, all wrapped in a seamless service from charming staff, providing a truly elegant experience like no other.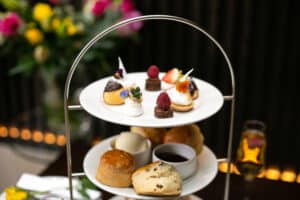 Say 'I do'
There's no surprise that One Warwick Park Hotel has become a popular wedding favourite. Quite the distinguished private hire venue, our vision incorporated beautiful interiors that would provide couples with a breath-taking contemporary setting for their big day, and over the last six years we have proudly hosted an array of ceremonies and receptions alike. Whether our guests are after an extravagant celebration or an intimate reception, our exquisitely versatile blank canvas gives every bride and groom the opportunity to ensure their special day is as unique as their one-of-a-kind love story. From our prestigious events team right the way through to our well respected, highly skilled chefs, everyone involved in our guests' special day create memories that will last a lifetime.
Corporate luxury
Located just a 45-minute train journey from central London, and a 5-minute walk from the station, it was only right to incorporate functional spaces perfectly suited for conferences and meetings. We meticulously designed four spacious, and fully equipped rooms for corporate hire to suite a range of requirements. Our Function Room is ideal for large conferences or seminars, and The Terrace, Function Room Bar and The Gallery are perfect for smaller conferences or business group meetings. Combined with seamless business service and a delicious lunch prepared by our onsite team of chefs, we ensured the perfect setting for our town's local businesses and their corporate needs.
Throughout the magical journey of One Warwick Park Hotel, guests' needs have always been, and will continue to be meticulously analysed to ensure every stay is as memorable as it is wonderful. No matter the reason for our guests' visits, we promise a team who genuinely care, and demonstrate passion in everything they do, as after all, these values have formed the core foundations of One Warwick Park, making us the hotel we are today.