Although a lot of English traditions might seem complicated and confusing, most of our quirky rituals have their roots in practicality, and it's no different for the quintessentially British tradition of afternoon tea. If you're thinking of attending such a gathering, be sure you know which type of tea party you plan to enjoy. Be it afternoon tea or high tea, many don't realise their distinctive differences both historically and culturally.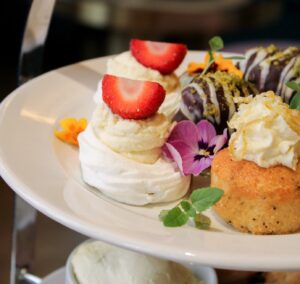 Fit for royalty
Our countries love affair for afternoon tea (also known as "low tea"), began in the early 1800s when Anna Russell, the 7th Duchess of Bedford caused the tradition to explode up and down the country. Born inside the houses of the rich and fortunate, upper-class women would change into long gowns, gloves, and hats and enjoy a spread of sandwiches, cakes, scones, cream, and jam on low tables whilst sipping on hot English tea. The ritual bridged the gap between lunch and dinner and was therefore typically served in the late afternoon.
Once a sign of great wealth, the now 'unofficial' national drink of England signifies the opportunity to slow down and relax so it comes as little surprise that afternoon tea has become so popular – with the edition of sweet treats and savory delights, what's not to love?
Reminiscent of its royal origins, afternoon tea is now often enjoyed as a leisurely indulgence served in elegant surroundings boasting all things luxury. Many venues have developed the tradition further allowing guests to enjoy a glass of fizz alongside the delicate treats as the tradition shifts towards the perfect affair for special celebrations.
A necessary meal
Afternoon tea was a true mid-day luxury for the upper classes, but the working class ran to a different schedule and of course a different budget. Tea was incredibly expensive in the 19th century and not something the working class could afford to waste, therefore was enjoyed at dinner time only. After arriving home late in the evening from a hard day's graft, the typical working-class family would sit down and enjoy a hearty spread to curb their hunger that involved a mug of tea, bread, vegetables, cheese and occasionally meat.
Due to being enjoyed at the dinner table, the meal soon became known as 'high tea' and it wasn't long before the upper class developed their own version that combined high tea with afternoon tea with the addition of pigeon, veal, salmon, and fruit.
Many people in Britain today continue to refer to this meal as 'tea' as the word 'high' slowly dropped from the phrase altogether.
Although afternoon tea remains the popular choice for restaurants and hotels, some venues do offer a more substantial menu that could be considered as high tea, and often includes pies, fish dishes and baked goods such as crumpets.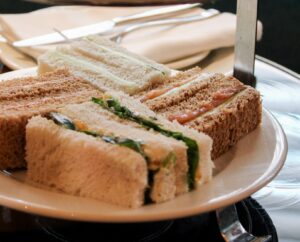 What about cream tea?
We often see the terms "afternoon tea", "high tea", and "cream tea" being used interchangeably, and now we've established the difference between high tea and afternoon tea, it's time to delve into the world of cream tea!
Simply put, cream tea is an adaptation of afternoon tea. The late afternoon replenishment focuses on a lighter combination of treats including British tea served with warm, freshly baked scones, clotted cream, and strawberry jam.
Cream teas are incredibly popular and loved throughout England, but no two counties love them more than Devon and Cornwall with many debates circulating around which location is the real home of the British tradition. Regardless, there's no better way to relax and indulge!
Jam or cream first? Ah, a question that causes much controversy! It depends on whether you're indulging in the Cornish cream tea or the Devonshire cream tea. Devonshire-style places the jam on top of the clotted cream, whereas Cornish-style places the clotted cream on top of the jam. Surprisingly, the order of which you layer the condiments does make a subtle difference in terms of flavour. But, if you're looking for a definitive answer, etiquette gurus say you should spread your jam first, before dolloping the clotted cream on top.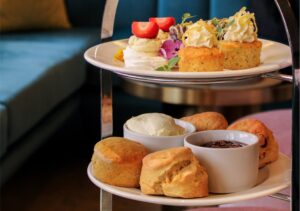 Mind your Ps and Qs!
Is it considered rude to dunk one's biscuits? To pour milk before or after? What about the pinkie finger? Tea parties are serious business in England, so avoid causing quite the stir with our ever-so British etiquette checklist:
Leave the trainers at home and opt for a semi-formal attire
Dunking a biscuit is a very stern and finger wagging no!
Spread your jam and then dollop the cream
To stir your tea, place the spoon at a 12 o'clock position and softly fold the liquid back and forth to the 6 o'clock position
Avoid clinking the spoon against the sides of your teacup
A risen pinkie finger is one of the most common faux pas of afternoon tea
Sc-on or s-cone? Either is fine!
Much to a true Brits horror, the milk should be poured first
Eat the sandwiches first with your fingers, not cutlery
Eat the scones second – they should still be warm!
We know it's hard, but save the cakes till last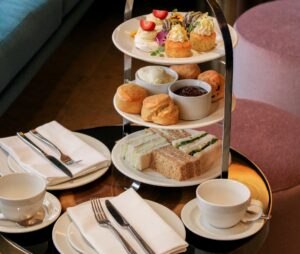 Afternoon tea in Tunbridge Wells
Now you're fully equipped for an afternoon tea, why not visit us and enjoy our delightful selection of sweet and savoury treats? Available alfresco style or in our stunning art-deco bar, guests can dine in true British style and choose from four options:
Classic Afternoon Tea £25 per person
Prosecco Afternoon Tea £28.50, includes a glass of Amori NV Prosecco
Champagne Afternoon Tea £33.50, includes a glass of Louis Roederer brut Premier champagne
Children's Afternoon Tea £12.50
We can't wait to welcome you to One Warwick Park Hotel, to book your afternoon tea here